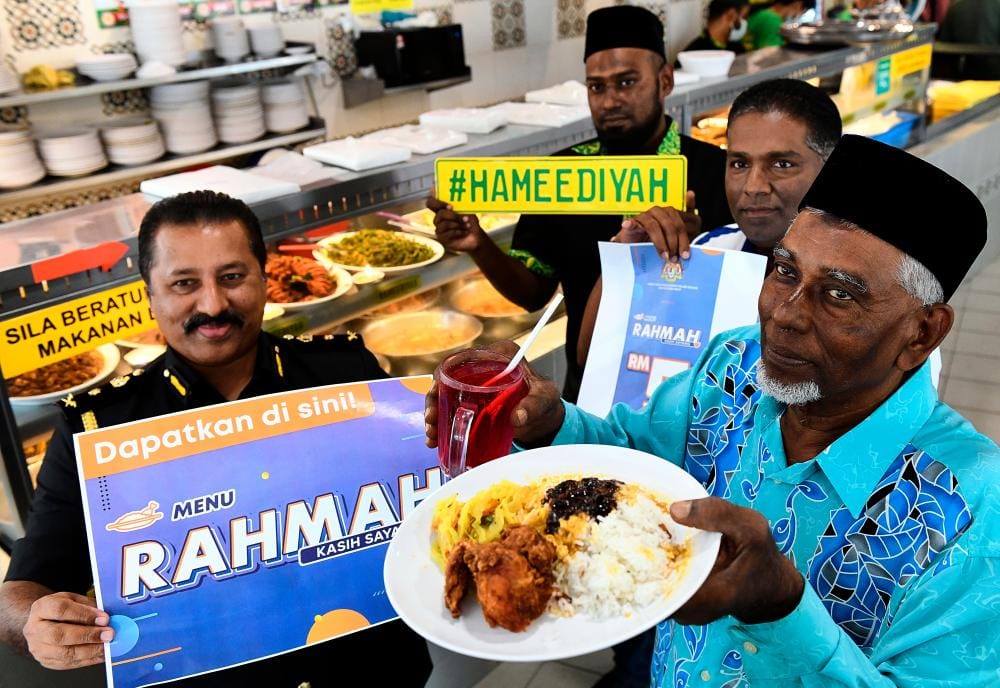 Menu Rahmah Hameediyah Restaurant Penang
Menu Rahmah Hameediyah Restaurant Penang
Penang's oldest nasi kandar restaurant, Hameediyah Restaurant will start offering its RM5 Menu Rahmah in March. Picture above from Bernama Pix
Its Sungai Ara branch manager, Muhd Salim Ahmed Seeni Parkir said its Menu Rahmah will be initially offered at two branches, the Sungai Ara and Lebuh Campbell branches.
"The Menu Rahmah will be offered from 5 pm to 10 pm daily and won't be linked to sale numbers," he told reporters after its launch today, which was also attended by Domestic Trade and Cost of Living Ministry (KPDN) Penang director S. Jegan. He added that the Menu Rahmah will offer a plate of rice with curry gravy, vegetables and either a piece of chicken or beef.
"We will allocate 15 (whole) chicken and between eight to 10 kilogrammes of beef daily for this purpose. After a two-month period, we will access the situation before deciding on the next course of action.
"After three or four months, we will re-examine the menu as it depends on the raw materials (prices) in the market," he Muhd Salim said.
Meanwhile, Jegan urged more restaurants to participate in the government's initiative of offering Menu Rahmah to help lower the cost of living for the B40 group. He added that currently there are only 19 restaurants and eateries in Penang that are taking part in the Menu Rahmah initiative. -Bernama
Contact Us
Ask ChAI
Hi, I'm the Chiefeater AI and I'm still learning, so pardon any hiccups along the way 😊 We will not be held responsible for errors or damages resulting from the use of this chatbot. By using this chatbot, you agree to our terms of service and privacy policy.
You can click the buttons below or type your own question. Please check with the outlet to confirm correct information.
---
---
Close Chat [X]

WhatsApp Outlet

Click to Call Outlet
There are no reviews yet.