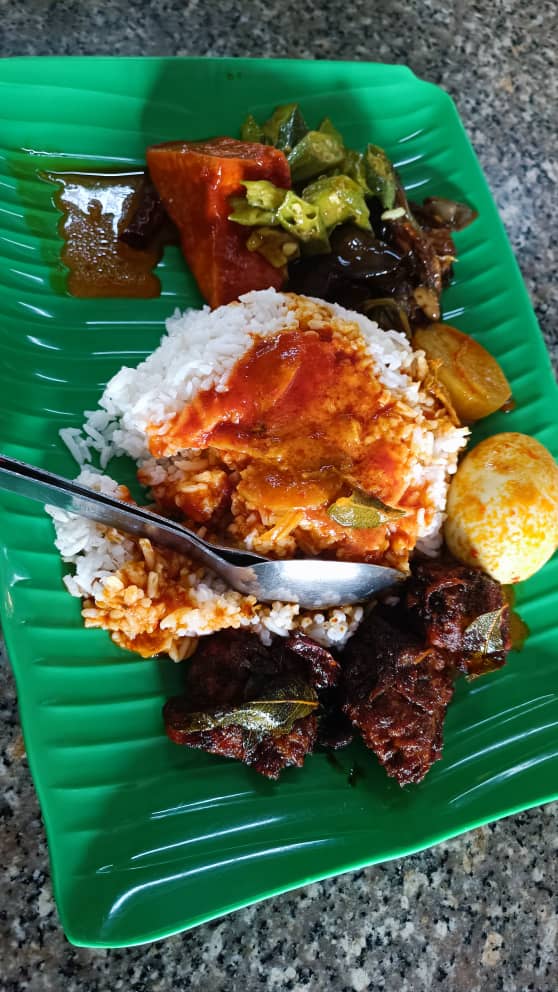 Insa Dunia Food Court Indian Rice
Post by Chiefeater CCM
This fine day out of the Blue, we decided to drop by Bukit Mertajam to check out a shop we were eyeing, Insa Dunia Food Court. After visiting, it's Lunch Time, we were feeling hungry and were wondering where to have our lunch, driving aimlessly around the Kampong Baru area, we noticed this Old food court. Insa Dunia Food Court, which I remember from 20 years back, we drove in and after a little wait, and luck found a place to park.
Walking in to the Food Court we found around half the stall closed (9 God Emperor Festival Mah) and after looking around, noticed this Indian Rice stall.  Having not have Indian food we when to take a look and found my favourite Chicken Vereval.
Definitely worth the drive there. And we may do so just to Makan this only.   Reasonable Price. Both plates cost less than 20
Insa Dunia Food Court opens the whole day, seat hundreds, there is Dim Sum as well and the usual Hawkers.
Business Hours
Opens Daily
08:00 am to 10:00 pm
Contact Us
Ask ChAI
Hi, I'm the Chiefeater AI and I'm still learning, so pardon any hiccups along the way 😊 We will not be held responsible for errors or damages resulting from the use of this chatbot. By using this chatbot, you agree to our terms of service and privacy policy.
You can click the buttons below or type your own question. Please check with the outlet to confirm correct information.
---
---
Close Chat [X]

WhatsApp Outlet

Click to Call Outlet