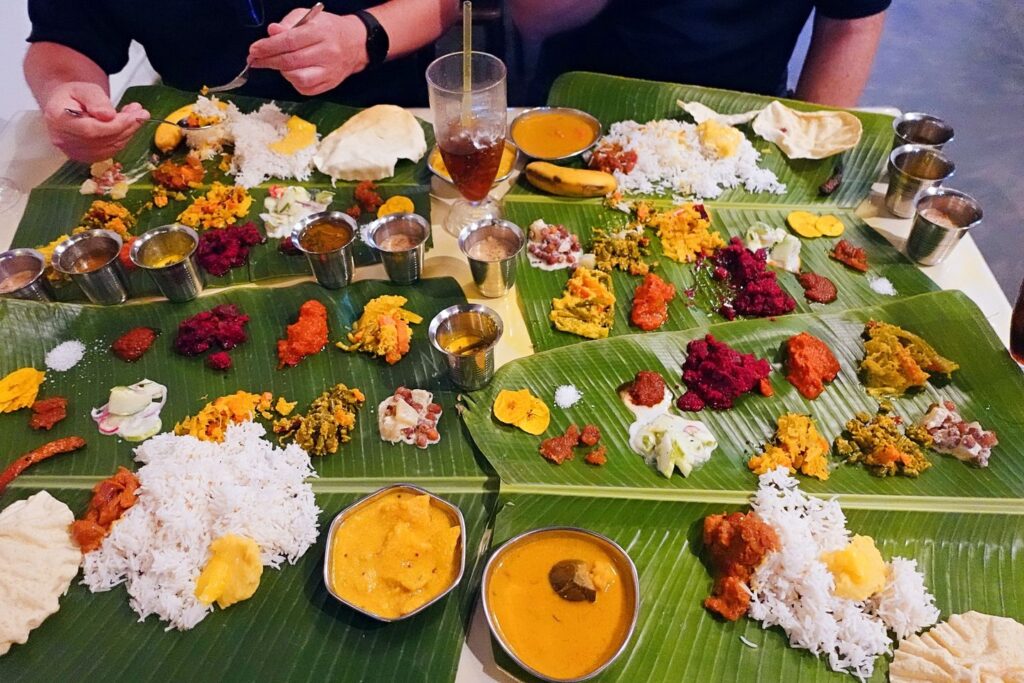 Shobana's Kitchen Traditional Sadya Meal
Post by Chiefeater Peter Yeoh
Shobana's Kitchen, Penang's premier Malayali restaurant, celebrated Vishu, the Malayali Spring Festival, by offering the traditional Sadya meal.
Sadya means 'banquet' in Malayalam, and a traditional Sadya can consist of 24–28 dishes, all served together on individual banana leaves.
Our meal today consisted of traditional Malayali repasts like injipuli, aviyal, kaalan, naranga achar, pulisseri, mezhukkupuratti, pachadi, koottukari, crispy banana chips, and much more.
Best vegetarian meal we'd had in a long while.
Our mind-boggling array of side-dishes of various flavours and textures. All good.
Business Hours
Wednesday to Monday
08:0 am to 09:30 pm
Closed on Tuesday
Contact Us
Ask ChAI
Hi, I'm the Chiefeater AI and I'm still learning, so pardon any hiccups along the way 😊 We will not be held responsible for errors or damages resulting from the use of this chatbot. By using this chatbot, you agree to our terms of service and privacy policy.
You can click the buttons below or type your own question. Please check with the outlet to confirm correct information.
---
---
Close Chat [X]

WhatsApp Outlet

Click to Call Outlet
There are no reviews yet.