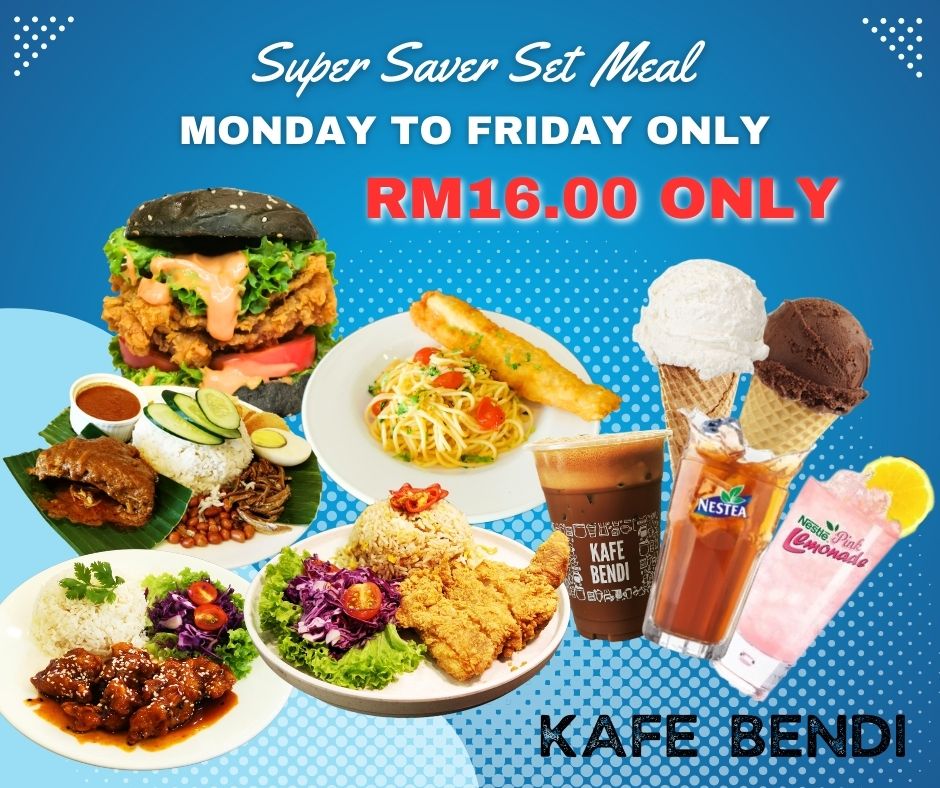 Kafe Bendi Super Value Set Meal
Super Value Set Meal
Introducing our irresistible Super Value Set Meal at Kafe Bendi, the perfect choice for food lovers like you! Indulge in a delightful feast that includes a refreshing drink and a mouthwatering ice cream dessert. Prepare your taste buds for an explosion of flavors with the following delectable options:
Chicken Chop Fried Rice:
Savor the tantalizing combination of crispy chicken chop, perfectly seasoned and deep fried to perfection, served on a bed of fragrant fried rice. Each bite will transport you to a world of savory satisfaction.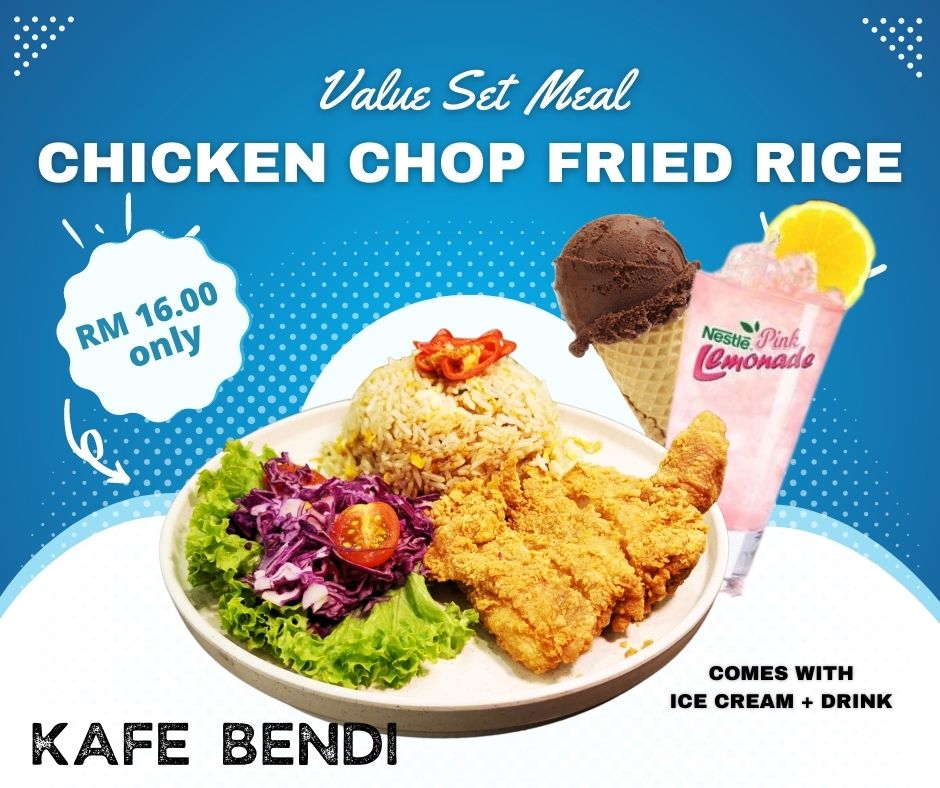 Spaghetti Aglio Olio with Crispy Fish Fillet:
Get ready to dive into a plate of al dente spaghetti tossed in a garlic-infused olive oil sauce, topped with crispy fish fillet. This Italian-inspired dish offers a harmonious blend of flavors and textures that will leave you craving for more.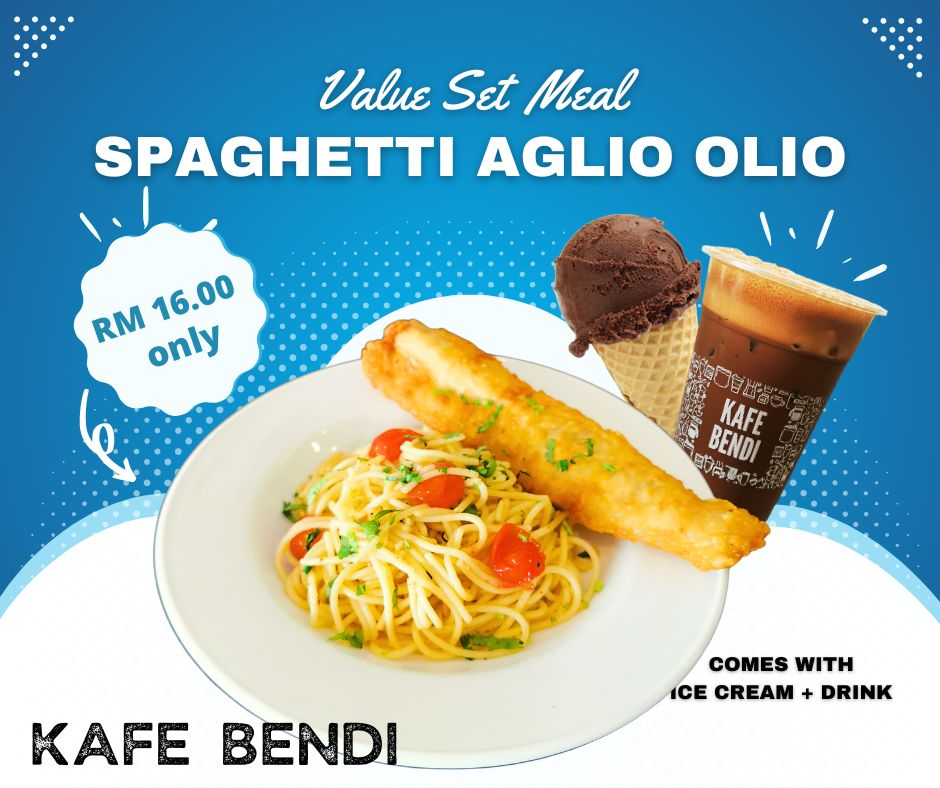 Crispy Chicken Burger:
Sink your teeth into a crispy chicken burger that will surely satisfy your hunger. Our succulent chicken patty is coated in a crunchy golden crust and served with fresh green coral, juicy tomatoes, and a creamy sauce, all nestled between soft burger buns.

Nasi Lemak Rendang Chicken:
Experience the rich and aromatic flavors of Malaysia with our Nasi Lemak Rendang Chicken. Fragrant coconut rice accompanied by tender rendang chicken, sambal, fried anchovies, and peanuts will transport you to the vibrant streets of Southeast Asia.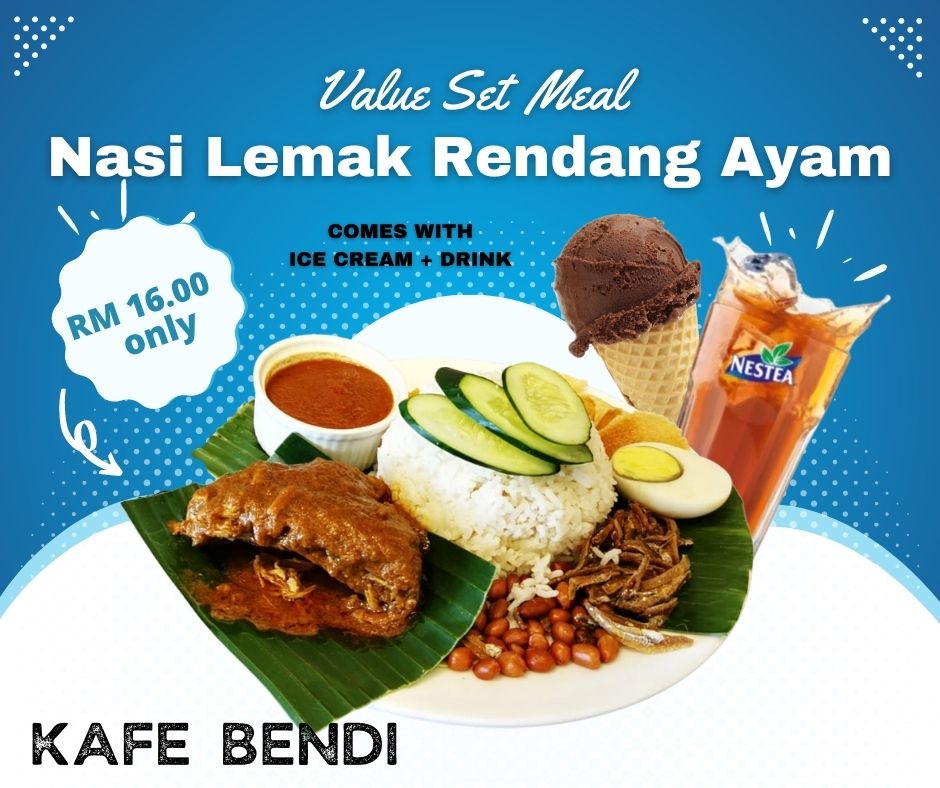 Korean Sauce Chicken with Rice:
Get a taste of the popular Korean cuisine with our Korean Sauce Chicken. Indulge in crispy and succulent chicken pieces, generously coated with a tangy and slightly sweet and spicy Korean sauce. Served with steamed rice, this dish is a delightful combination of flavors.

To complete your meal, we are also offering a refreshing drink of your choice and a delectable ice cream dessert. So, why wait? Treat yourself to our Super Value Set Meal and enjoy an incredible culinary experience that will satisfy all your cravings. Visit us today and dive into a world of deliciousness!
T&C: APPLICABLE FOR DINE-IN ONLY
Business Hours
Opens Daily
09:30 am - 10:00 pm
Contact Us
Ask ChAI
Hi, I'm the Chiefeater AI and I'm still learning, so pardon any hiccups along the way 😊 We will not be held responsible for errors or damages resulting from the use of this chatbot. By using this chatbot, you agree to our terms of service and privacy policy.
You can click the buttons below or type your own question. Please check with the outlet to confirm correct information.
---
---
Close Chat [X]

WhatsApp Outlet

Click to Call Outlet