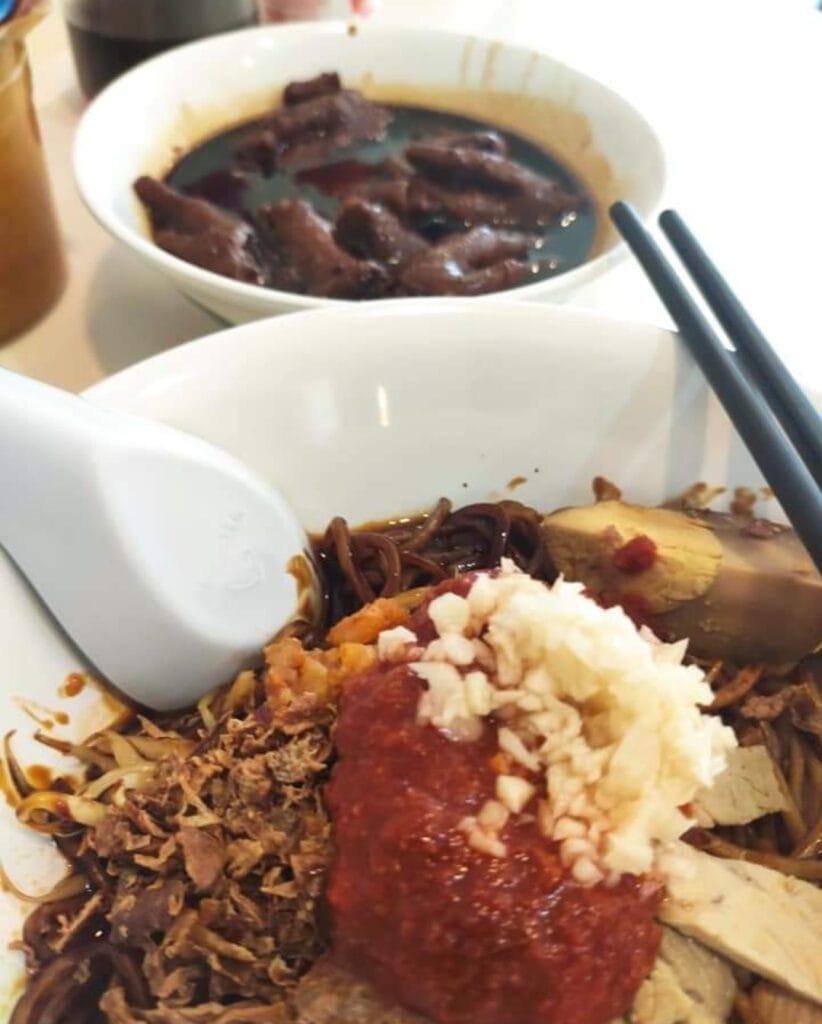 Ah Kok Hokkien Mee "Hokkien Ta" and Braised Chicken Feet
Post by Chiefeater CCM
Hokkien Mee stalls in Penang will usually be sold with its variation, Loh Mee. Across the Penang Strait there is another variation, a "Pak Hai" (North Wind) take of this dish. It is called the "Hokkien Ta". This variation is found at Ah Kok Hokkien Mee.
The Noodles of your choice is mix with dark soya sauce, the usual Hockian topping and than a concentrated Prawn Broth is added in. Super Unami.
This morning breakfast is from one of the premier establishment for Hokkian Mee in Butterworth. From humble beginnings from a push cart stall years ago Ah Kok Hokkien Mee is now a 2 shoplot outlet (with Aircon section), in it's latest renovation just after MCO.
They offer just one dish, and it's variations, and have the usual optional add-on, My Order is the Hokkien Ta and the "secret" pièce de résistance, a big bowl of Braised Chicken Feet, all to my self.
I am in "collagen" heaven. The Chicken Feet is braised for hours with various seasoning and herbs. It's more than finger licking good. Beyond Unami.
This Cafe will place out tubs of chilli "Sambal" and Pickle Mince Garlic at each table for you to customise.
Contact Us
Ask ChAI
Hi, I'm the Chiefeater AI and I'm still learning, so pardon any hiccups along the way 😊 We will not be held responsible for errors or damages resulting from the use of this chatbot. By using this chatbot, you agree to our terms of service and privacy policy.
You can click the buttons below or type your own question. Please check with the outlet to confirm correct information.
---
---
Close Chat [X]
There are no reviews yet.