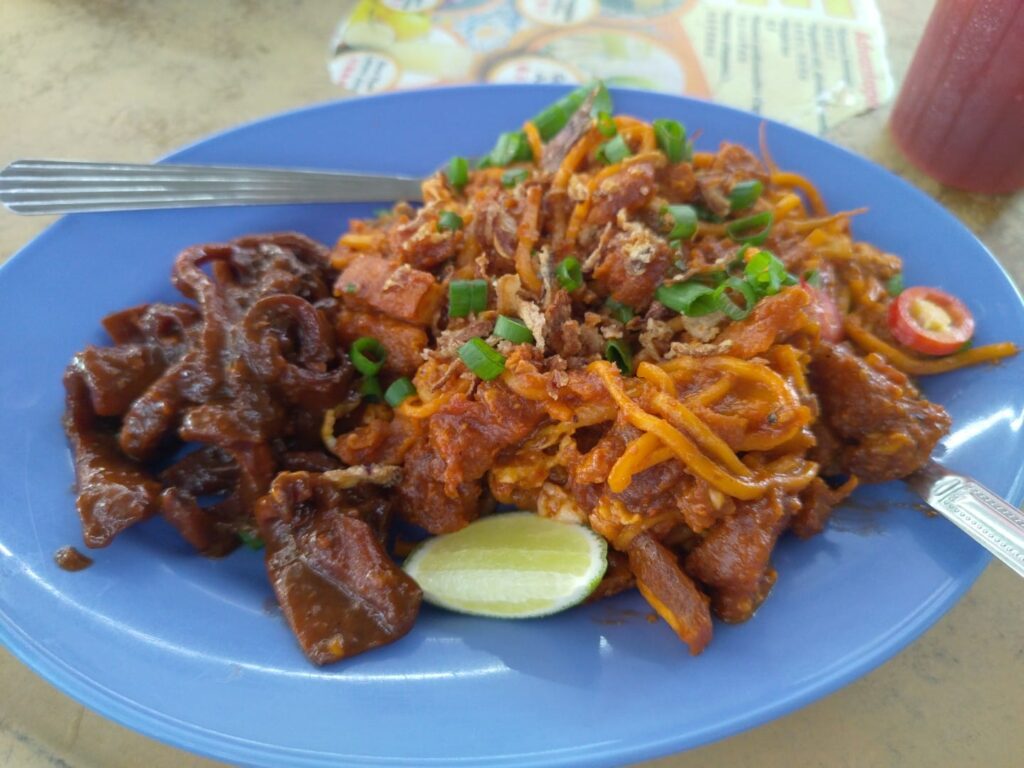 Keat Garden Cafe Mee Goreng
Post by Chiefeater William WL Loo
I walked west from home hoping to burn some calories to deserve a good lunch. I had a plan to have nasi kandar but had not decided where. My preferred destination and outer limit was Ali Ameer in Jelutong but I googled n it was closed. That would have been an ideal calorie burn cuz it was almost 3km away.
First I walked past Janaki Villas Indian food which looked promising but I had only walked 500m. I plodded on farther as I quite like Barakath Nasi Kandar at Hans Food Court but again this was closed. Across the street I saw this mee goreng sotong at Keat Garden Cafe and a long queue at a nasi kandar stall outside Restoran Cameron Highlands next door.
Should I proceed to walk left to Batu Lancang Food Complex where there are 2 nasi kandar tomato? I had to make a call quickly as the sky was getting overcast. I ended ordering a nasi kandar bungkus; nasi kurang, kuah banjir dengan ikan bawal dan daging seketul. It looked amazing and cost only myr10. I will save this for later.
Then I sat in Keat Garden n had this mee goreng sotong for myr9. It had all the elements of a decent mee goreng but lacked some serious ooomph. B-
Editor's Note
Chiefeater William WL Loo still preferred this to the Singapore Mee goreng that he gets
Business Hours
Monday to Saturday
06:30 am to 11:30 pm
Closed on Sunday
Contact Us
Ask ChAI
Hi, I'm the Chiefeater AI and I'm still learning, so pardon any hiccups along the way 😊 We will not be held responsible for errors or damages resulting from the use of this chatbot. By using this chatbot, you agree to our terms of service and privacy policy.
You can click the buttons below or type your own question. Please check with the outlet to confirm correct information.
---
---
Close Chat [X]

WhatsApp Outlet

Click to Call Outlet