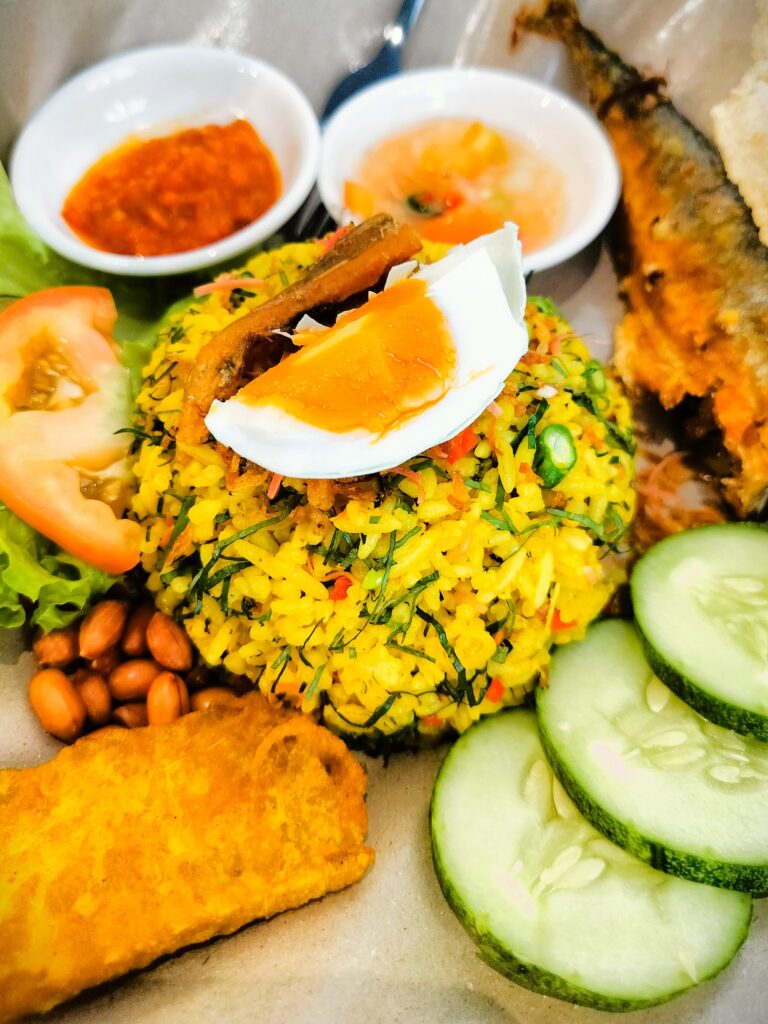 Rasadulu Cafe Nasi Ulam
Post by Chiefeater RQ
Rasadulu Cafe has been one of my main spots for good nyonya food in the Puchong area since it opened in late 2022. It also has one of the best cendol outside of Melaka, at least in my humble opinion. I usually order a kapitan chicken curry or a prawn sambal set for lunch.
This time, I opt to try a new item on the menu. Nasi ulam, or mixed herb rice, is rice cooked with turmeric and mixed with a bunch of traditional herbs - wild betel leaves, lemongrass, turmeric and lime leaves, mint and torch ginger, ingredients more commonly found in traditional Malay cooking. The raw herbs are finely chopped and incorporated into the cooked rice, and shreds of toasted coconut flesh are sprinkled on top. The end result is a spicy, fragrant rice dish that can be eaten on its own.
The Rasadulu Cafe version comes with either fried fish or fried chicken, a sliver of salted egg, two small containers of pungent and very spicy sambal and cincalok (fermented raw prawns), and assorted raw vegetables. The taste of the nasi ulam brings me back to days long gone when my relatives used to make it for special occasions, mainly because it was such a laborious process. A thick curry or creamy masak lemak sauce doesn't go well with this dish because the subtle notes of pepper and ginger tend to get overwhelmed.
As for dessert, I skip my usual cendol fix and try the sago instead. The handful of sago pearls are topped with green rice flour jelly and I can control the amount of fresh coconut milk and gula melaka (palm sugar syrup) to pour on top. It's a lovely mix of sweetness and creaminess but on a hot afternoon, a bowl of cendol still can't be beat.
Business Hours
11 am to 9 pm
Contact Us
Ask ChAI
Hi, I'm the Chiefeater AI and I'm still learning, so pardon any hiccups along the way 😊 We will not be held responsible for errors or damages resulting from the use of this chatbot. By using this chatbot, you agree to our terms of service and privacy policy.
You can click the buttons below or type your own question. Please check with the outlet to confirm correct information.
---
---
Close Chat [X]

WhatsApp Outlet

Click to Call Outlet